Check out these creations made right here in the SU MakerSpace:
Students, Faculty, and Staff are all encouraged to get involved in the SU MakerSpace and Making in general. Check out some of the latest projects that have been created in the MakerSpace. Did you make something here? Tag us using #SUMakerSpace or contact us for a chance to be featured!
3D Printed Chess Set and Dye-Sublimated T-Shirt: Yudaisy Salomon Sargenton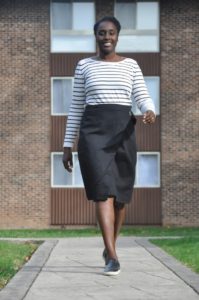 Yudaisy Salomón Sargentón, an Administrative Assistant for the Physics Department at Syracuse University, is no stranger to the MakerSpace. She previously engraved two mason jars and embroidered handkerchiefs for her husband and herself (for their wedding anniversary). Most recently, for her oldest son's birthday, she 3D printed him a NYC versus Chicago chess set and also disublimated a NYC drawing onto a t-shirt.
Yudaisy got the inspiration from her son to create the gifts. "My son loves NYC (it's architecture and the skyscrapers), so I decided to go with that theme this year." Her son recently made a drawing of New York City on his friend's phone and she thought it would look great on a t-shirt. Yudaisy began her project by stopping into the MakerSpace to seek advice on what her different options were. She spoke with Gianna, a student supervisor at the MakerSpace, and brainstormed the idea to dye-sublimate his design onto a polyester t-shirt.
She also had the idea of creating a chess set. She notes, "Knowing that both of my sons like playing chess, I thought this was the perfect time to make my own version of a City Chess set. I brought my idea to the MakerSpace and the staff recommended to search on a site like Thingiverse for a free file first. I searched and I was so lucky! Someone had created it already and it was exactly what I wanted." Once she decided on the design, she downloaded the files and brought it to the MakerSpace where her files were sent to print on the Gigabot. She returned to pick up her completed chess set soon after and was able to surprise her son with the gifts just in time for his birthday. She adds, "I am very crafty so I really enjoyed the process of planning my projects, learning how all the equipment works, and the most exciting part was seeing the final products. I love everything I have made so far, but to see my son genuinely amazed and happy when he saw his presents was the cherry on the cake for me." In regards to the Makerspace, Yudaisy comments, "The whole process is really easy and fun. I still cannot believe we have free resources like this one on our own campus. It is amazing!"
Laser Engraved Glassware: Oma Kassim '15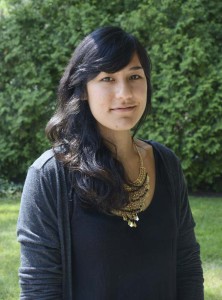 Oma Kassim, a fifth year architecture student from Long Island, New York, had an idea. She and her friend Sung-Ho Youn wanted to take some of her illustrations and design work and apply them to glassware. "We had a funny idea of taking a cat and doing a bunch of different little illustrations of cat drinking coffee and drinking water and then have that engraved on a bottle and used as something else," Oma says. "Just seeing my drawings be turned into something you can hold and look at and use everyday is pretty fun."
Oma begins by making a few brief sketches in her notebook. Then, she continues working on her illustrations in Adobe Photoshop, using a Wacom tablet. She finalizes her work in Adobe Illustrator, and from there the file is sent to the Makerspace's Laser Engraver.
"The MakerSpace is a really fun place to be right now. I just really love working with all the people here…I feel like I would never have come up with these idea on my own, so working with everyone has helped a lot."