Please keep checking this site for the latest updates about the SU MakerSpace and News/Events. For more information about Guided Tours, including scheduling, please fill in and submit the Contact Form below. You can also use the Contact Form if you are interested in contributing to the SU MakerSpace.
Due to increased demand, the following policies are being implemented. New job requests will only be accepted up to an hour before the MakerSpace closes. We may also have to limit the number of concurrent jobs based on available staffing. Also, we'll be unable to facilitate tours or host classes during the last three weeks of the semester.
For assistance filling out the contact form on this page, please contact us by calling our help desk at 315-443-2677.
Location
029 Kimmel Hall
Syracuse University
311 Waverly Avenue
Syracuse, NY 13210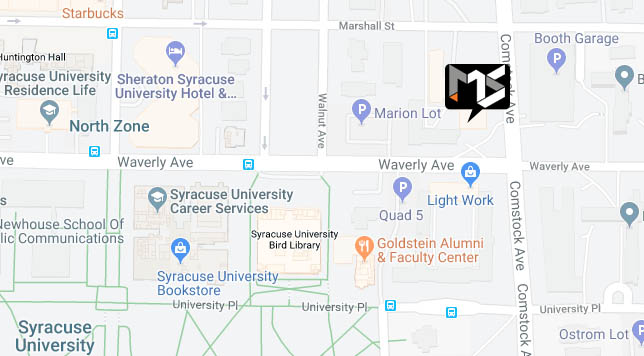 Phone
315-443-2928
Hours
Academic:
Monday-Friday: 10am-6pm
Weekends: Closed
*Tours of the MakerSpace will be held virtually
until further notice. In person tours will be unavailable.
Summer: 
Monday-Friday: 10am-4:30pm
Weekends: Closed
Winter:
 Monday-Friday: 11am-5pm
Green Days: Closed